| | |
| --- | --- |
| NGF/LO`s newspaper | | 2002-03-31 |
ngf & LO have released a little TG-newpapers, which is now avaiable in pdf (Adobe Acrobat Reader) format, and can be downloaded here
Today I finally got some to visit me. Silje and Marita where travelling by car from "Sokna" to Hamar to check out what TG is all about. To experience that someone outside TG drove the long way to visit me was great, but it also was an opportunity to find out what people outside TG, specially girls, are thinking about it. I guided them around the ship for a couple of hours, showing them what people are doing.

My two victims of the day are not very into computers, so it was quite a challenge to find things they would like to see. At first they thought it was quite dull, and was thinking of leaving after a short time, but I convinced them to stay for a while, and experience TG after dawn.

Entering the ship a couple of hours later, they where quite fascinated by all the lights and music. They took interest in the High Quality Music compo, and one of them actually said "What a cool tower!!" pointing at one of the many case-mods in the ship.

They both thought the visit was a lot more fun than they had anticipated. The "geek-factor" at the party was a lot less then they thought before the experienced it. They where also surprised by the large amounts of girls at the party.

I asked them if they would consider attending TG next year. They would definetly visit it, but if they should bring a computer, they wouldn't stand here for five days. Maybe a day or two.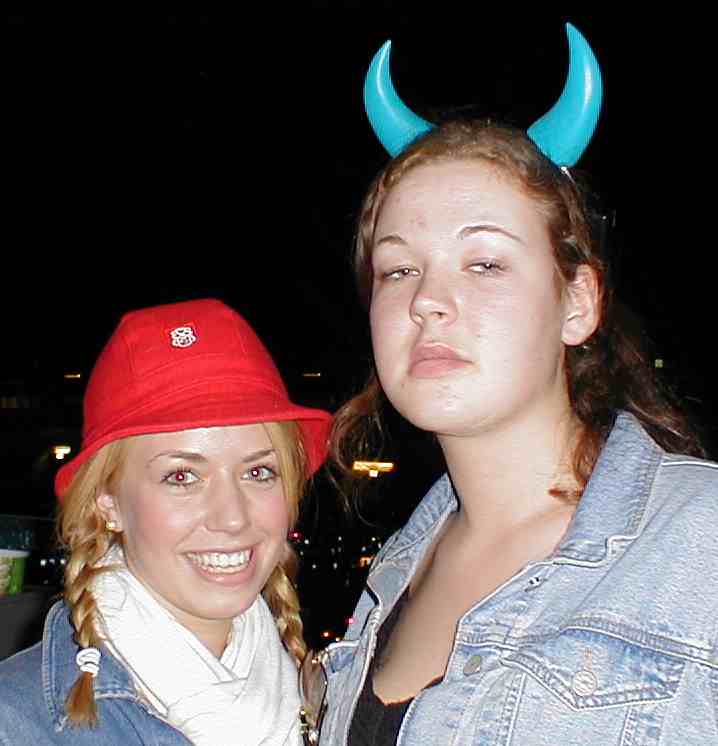 I took a chat with our demo-crew, to find answers to some scene-related questions, and here's the result:

Why do people code demos instead of playing games?
People wants to be creative. They learn a lot from coding demos, and it gives a real kick to have something you have created displayed on a big screen in front of a lot of people.

Have the amount of scene-people (sceners) increased or decreased the last couple of years?
Some years ago (1996) there where a lot more sceners at TG that it is now. Although the last couple of years, we have seen a little increase. We're trying to help new sceners to gain knowledge, because we want more of them.

What advantages/disadvantages have hardware-accelerated graphics brought with them?
Now you have an alternative. You can go for hardware-acceleration, or software-rendering. Hardware runs faster, but software gives you pixel-based control.

Why is a lot of you people favorizing Amiga?
It's more difficult to program on an Amiga, because of hardware-limitations. But it's also fun, because you got very good control over your hardware.

Any tips to people who wants to start out with demo-coding? What languages and graphic-API's would you recommend?
It's most a matter of taste. Most people tend to go for "C", becouse it's quite easy to learn. When it comes to gfx-API's it's a matter of taste. If you want to learn to code demos, you could search the Internet for information, or hang out in the right channels at IRC. #scene.no@efnet is great.

Why do you think The Gathering have lost a lot of sceners, to other parties like Mekka?
TG have become to commercial. It's all about size. (Having as much people as possible). Mekka is more scene-friendly, and only allows sceners to participate.


"The Gathering" is an event that started in 1992 in Norway as a crazy idea among a group of computer friends named Crusaders and Deadline, where people get together to exchange knowledge, share their computer experiences, participate in games, in demo competitions, etc... but above all to spend some 5 days of cyber fun.

At that time there were a lot of this type of parties going on and the Crusaders group was pretty known in the demo-scene by most of Scandinavien, so they decided to organize the biggest interactive party so far so more people could learn and enjoy about what the new technology could offer.

The Gathering (TG) of 1992 and 1993 took place in Lillestrom (20 km. from Oslo aprox.), in 1994 in Sandvika (25 km. from Oslo), 1995 in Stavanger (west of Norway), but in 1996 TG had to get a place big enough to host the ammount of people that wanted to attend to this event, so from that year on it has taken place in the olimpic arena of the city of Hamar (north of Norway) named "Viking Ship" that has a capacity for 5.000 people.

Is good to mention that when TG started in 1992 there were just 15 people helping on its organization. By the year 1995 this number went up to 35, and for 1996 there were 60 people working for The Gathering. But from 1997 there have been aproximately 120 - 200 people involved in the organization and realization of TG per year.

The 1st Gathering was a big success, they were expecting no more than 600 people and it showed up aprox. 1000, but this also made things with the powercables a little trickier to make it work. However, this was one of the important reasons why they decided to keep organazing this party that has been on for 10 years now.
In 1993 actually showed up arround 1300 people and then the problem wasn't really the powercables but the power itself, because the hall didn't have enough to supply this big crowd.
So for 1994 TG had to get a new place, but as in all good things this group had to face another problem, this time was with the fire department 3 days before the opening. TG got actually closed for a law missinformation of the fire department, but the same day everything got straighten up, although people were not supposed to sleep in the hall so they had to rent a tent with a proper heater to make it abalaible for people to spend the night in.

Fortunately nothing has been strong enough to make this guys stop making TG, and after this 10 years we can say that the work has been worth it.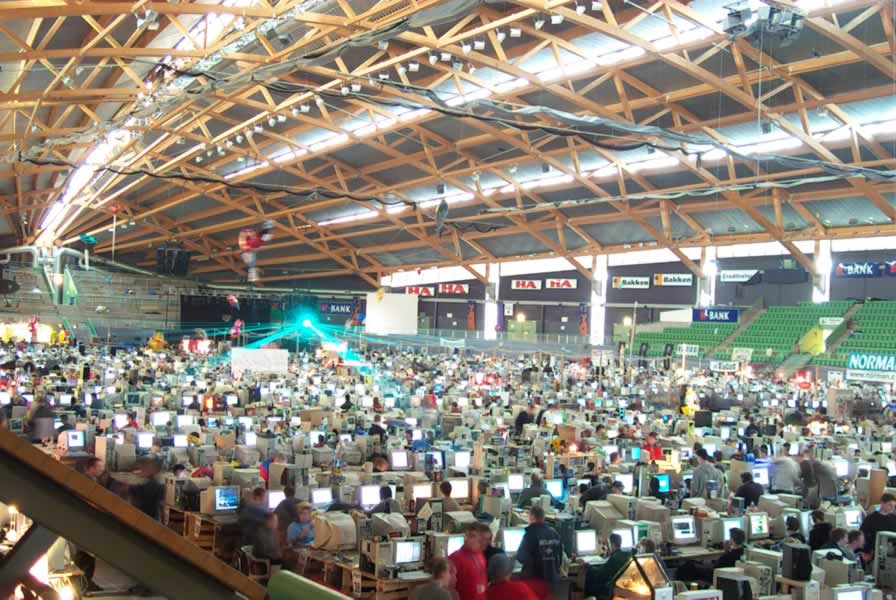 You wake up in a place full of people and while you walk towards your pc that is in one of the many tables placed for all the computers (aprox. 80 pc per table) you meet thousands of people in your way, some still sleeping, others just hanging out, but most of them are siting in front their computer either playing or surching what's new in the network that is formed by aprox. 2000 servers.

The environment is always very pleasent, the music never stops playing, the crew leaders always are taking care that everything is in order and that everybody feels like at home.

After a few hours you start meeting people with your same likes and dislikes, and it calls to your attention to know that is not so hard to make new friends either through the net or in person.

If you are one of those guys that enjoy playing computer games and participate in them, you approach to the desk to add yourself into the game competitions and then be able to have even a better time. If you also like programming and have sent a demo for the demo competition you wait with anxiety to be in one of the top places.

When the night starts getting closer and you are in one of the firsts days at TG, while you see yourself interacting with people that is new for you, suddenly you hear that the music changes it rythm and that are announcing some kind of show in one of the corners of this arena. Due to your human curiosity you approach to the place of this event to start watching this nice live show with dancers and lasers that has just started. At that moment you realized that even though there are aproximately 5.000 people arround you, their faces are not so unfamiliar anymore and feel that these 5 days are going to be even better than what you first imagined.
The last couple of years, case-mods have become pretty popular. Wherever you turn, you can see computers with plexiglass-windows, and neon-lights. But today I found a case which was slightly different from the rest. Since I'm not doing case-mod's myself, I wanted to find out a little more about it. Why is it done? What does it require? My victim of the day was Spaceman. He had a wooden-case with water-cooling.. I thought it was pretty neat :) I asked him what make people mod their cases, but he couldn't quite answer that one, so I'll just have to keep on looking, and I will share the answer with you as soon as I find out. He had used 10-15 effective working-hours on the case, and since a picture says more than a thousand words, here it is!


Vi tenkte vi skulle lage et interview, men interviewer har en tendens til å vli litt formelle og man får litt vanskeligheter med å finne de riktige spørsmålene for å få folk til å snakke så vi gikk bort å tok oss en prat istendet.Vi gikk til mitterste rad, "scene området", for å
finne en som har noe å bidra til tg02 hvor fant vi en med 3 synther og masse stash og spurte ham litt rundt om musikk med pc.
Flipside er 19år fra Sarpsborg, deltok i tg96 for første gang og har 7 års erfaring med tg og lage musikk. Spiller sammen med Emphazer, og lager for det meste trance. Hadde med en låt i åpningen av tg02 på onsdag, og har lagt in entry in High Quality compoen.

Hvordan han får til dette er med 3 synth'er som han spiller på, med 2, 8, og 12 kanaler, deretter mixer han lyden med instrumentene som synthen har, når de faller i smak spiller han disse inn i programmet "logic" hvor han fortsetter å sette sammen låta. Har ingen plate kontrakt enda, men har kontaker i Norge, Sverige, Tyskland og i Statene, så! får se hva fremtiden har å tilby.